Body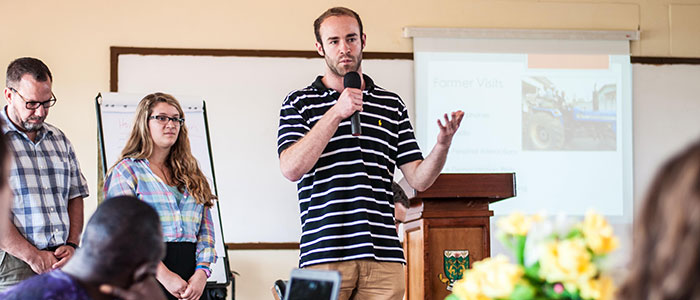 Dr. Richard Cooke, Associate Professor and drainage extension specialist in the Department of Agricultural and Biological Engineering, spent fall semester 2013 at Njala University in Sierra Leone designing rainfall harvesting systems to increase agricultural productivity in the country's inland valley swamps. During a sabbatical leave based at Njala, Cooke initiated a study to investigate the extent to which rainwater harvesting (RWH) can impact the area's surface water and groundwater throughout the year.  RWH is a method of inducing, collecting, storing, and conserving local surface runoff for agricultural production which can promote small-scale, cost-effective irrigation. Cooke worked primarily with Njala's Professor Rashid Noah, and two PhD students he is supervising, Mr. Mohammad Blango and Mr. Patrick Sawyerr.
History of Njala and Illinois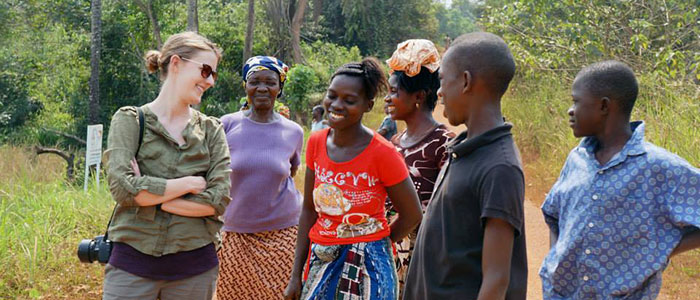 In 1963, the government of Sierra Leone and the United States Agency for International Development (USAID) assessed the needs of Sierra Leone in agriculture and education. On the basis of their recommendations, the government established Njala University College in the mold of an American Land Grant University. Technical assistance was provided by USAID, with the University of Illinois as the implementing partner. Faculty from the College of ACES taught at Njala during its formative years and several graduates of Njala came to Urbana-Champaign to pursue graduate degrees.
Njala University was displaced from its rural location in 1994 when many of its facilities were destroyed during the Sierra Leonean civil war. As a result, faculty and students set up in Freetown, and Njala University was officially deemed an independent university in 2005. In recent years, the university has made great strides in rebuilding and expanding its main campus in Moyamba District.
The University of Illinois and Njala University currently host a number of joint activities through their academic partnership. These include workshops, seminars and training focused on nutrition, food security, food processing, agribusiness and sustainability. This partnership between the University of Illinois and Njala University creates many opportunities for students, faculty and staff to collaborate with one another through study abroad programs or research projects carried out in Sierra Leone.
For More Information
Paul McNamara
Associate Professor and Program Director
Email: mcnamar1@illinois.edu
Phone: 217-333-3769